A major curiosity amongst tourists visiting India, breads are reflective of the intrinsic character of Indian cuisine. Without them, no Indian Menu is found complete. Although there are multiple varieties of breads across Indian regions, we've picked a few favorite ones in this article.
1. The Great North Indian Naan
Be it butter naan, garlic naan, keema naan or cheese naan, this bread is an absolute favorite across North India. Its an oven-baked, leavened flat bread which could be made from both whole wheat flour and all-purpose flour. To prepare the dough for naan, you need to mix flour with yoghurt, salt and yeast culture post which you need to knead the mixture for about 10-15 minutes. Once you are done with the kneading, set aside the elastic dough for a couple of hours. You will notice the dough rising after a few hours. You can then break the dough into small balls, flatten the balls and bake them in an oven. Naan has a typical tangy taste because of the mild lactic fermentation that takes place in the dough.
2. Poori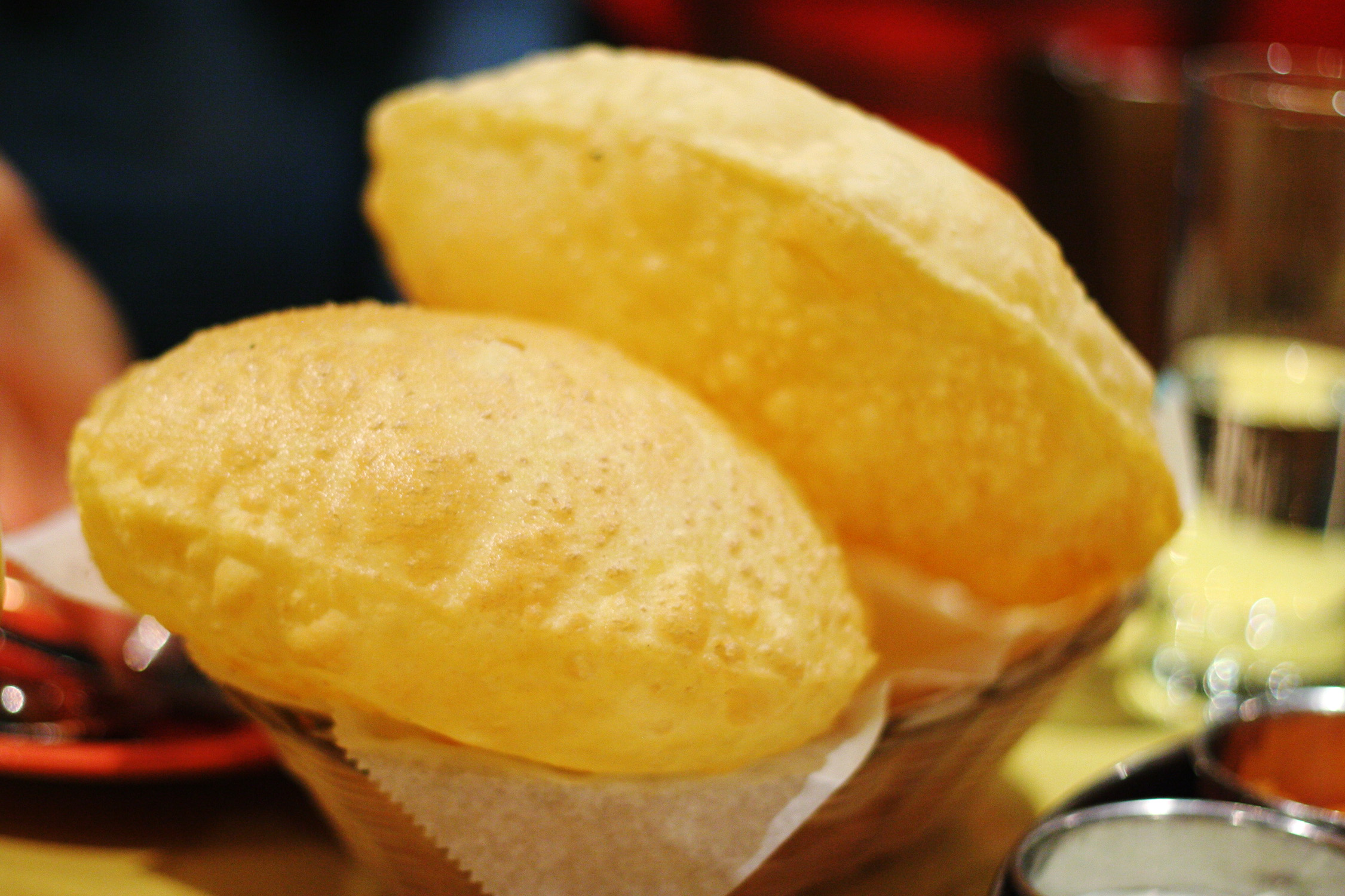 While talking about Indian breads, it'll be a sin not to mention the much loved Aloo-Puri. In most Punjabi households, you'll find them for brunch on those lovely Sunday mornings. Puri or Bhatura is a type of bread that is deep fried and made crisp. Puri is delicious deep fried Indian flat bread made from the flour of whole wheat. You need to knead the flour using water and oil until you get unleavened, pliable dough. Break the dough into small balls and roll them out into small round discs of medium thickness. Heat oil in a kadhai before dropping the discs one by one into the hot oil. You will find the discs getting fried, changing color to golden brown and soaring to the surface of the kadhai to give you fluffy puffy delectable puris.
3. Thepla
Moving on to Gujarat, this is a kind of flatbread made from whole wheat flour.  You would generally find these in majority Gujarati Menus. Methi or fenugreek thepla or coriander thepla flavored with til or jeera is a sureshot heart melter!
4. Dosa!
Moving down South, you find a complete transformation in breads. From the conventional mixture of flour and water, there's a switch to batters made with rice flour, lentil flour and semolina. An excellent meal for health, dosas may be served plain or stuffed with combination of vegetables and chutneys. Down south, you'll find an amazing number of varieties in restaurant menus. Also, Masala Dosas have found their food fantasy in a lot of North Indian regions too! The batter, made with a mix of rice and lentils, is poured on a pan and evenly spread to obtain the shape of a pancake. Mysore Masala Dosa is a personal favorite.
5. Malabri Parotta
Finding their way down south, there's a special variety of Paranthas with a unique texture. The Malabari Parotta flat bread of Kerala tastes superlicious with their chicken curries. It is a variant of the Lachcha Paratha from North India and is made with refined flour, egg and oil.
If we further look at the variants of breads, there are multiple options available across the country. Stuffed Paranthas and Naans are usually preferred for breakfast with a bowl of curd. In a nutshell, Indian Food never fails to impress your taste buds. Just pick on a cuisine or a menu and find your self in utter indulgence of some finger licking super delicous food!
Until the next time, Happy Eating! 🙂